Culinary art
---
The 45 ha big farm is well-known for the tradition, that guests are served with local and home-made specialities.
We are well-known for lamb prepared under peka.
We also recommend home-made plates (ham and bacon plate, cheese plate) as well as a portion of cottage cheese, seasoned with pumpkin oil and onions.
Tempting are also roasted chicken and fish specialities . The trout we serve is bred in the nearby pond.
For those who would like to get into a deeper touch with the Koroška region, there is a variety of local home-made dishes. These are delicacies like buckwheat žganci (porridge) and maize žganci (porridge), different kinds of soup, meat, vegetarian and vegan dishes. The housewife Breda, the chef of the kitchen, likes to surprise and enchant her big and small guests with new imaginative culinary creations.
Home-made drinks are: plum schnaps, pear schnaps, apple most (an alcoholic apple drink tasting similar to cider), different kinds of fruit juices as well as herbal tea. "Minister of Health warns: Excessive alcohol consumption is harmful to health!"
---
Lamb under the baking bell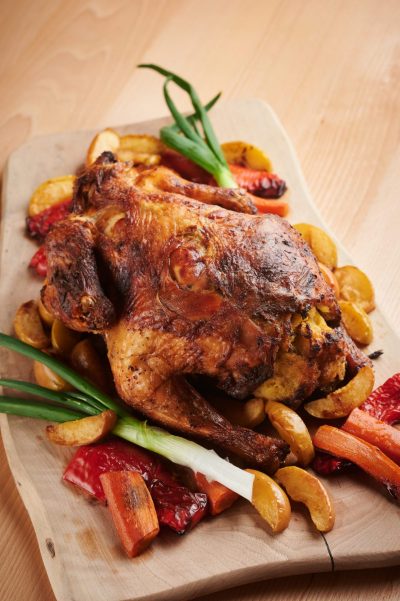 Stuffed chicken
Homemade schnapps
Kvočevi nudli
Apple cider
Cottage cheese struklji
Accommodation
---
Apartment with a separate bedroom
Apartment with mountain view
---
Studio for 2 persons:
70 €
---
Studio with balcony for 2 persons:
75 €
---
Apartment with separate bedroom for 2 persons:
90 €
---
Apartment with mountain view for 3 persons:
100 €
---
Price for every additional guest in accommodation:
10 € per person
---
Breakfast:
10 € per person
---
Dinner (4 course menu):
17 € per person
---
Meals for children under the age of 2 are for free.
Children aged from 2 to 12 are granted a 50% discount.
---
Tourist tax:
1,20 € per person
---
Promotional tax:
0,30 € per person
Bed linen, towels, sports equipment rentals and a sauna visit are included in the price.
Children under the age of 2 stay for free.
Accommodation for one or two nights: 20% extra cost upon the set price.
During the season 15.6. – 15.9. and 24.12. – 2.1. the prices for renting an apartment rise by 15%.

---
Additional offers included in the price:
Volleyball court and football pitch

Mountain bikes

Tabletennis

Billiards

Shuttlecock

Sauna

Outdoor children's playground

Board games

Petting zoo: children can enjoy playing in the company of rabbits, sheep and the dog Aya.
Foreign languages: at the tourist farm Ravnjak Slovene, English, German and Croatian languages are spoken.
Opening hours:  1. 1. – 31. 12., on appointment
Home philosophy: devote yourself to the guests … they have stopped for a certain reason.
---